Do your people feel appreciated?
We make it easy to instantly recognize great work and intentionally shape your culture.
All your recognition programs in one place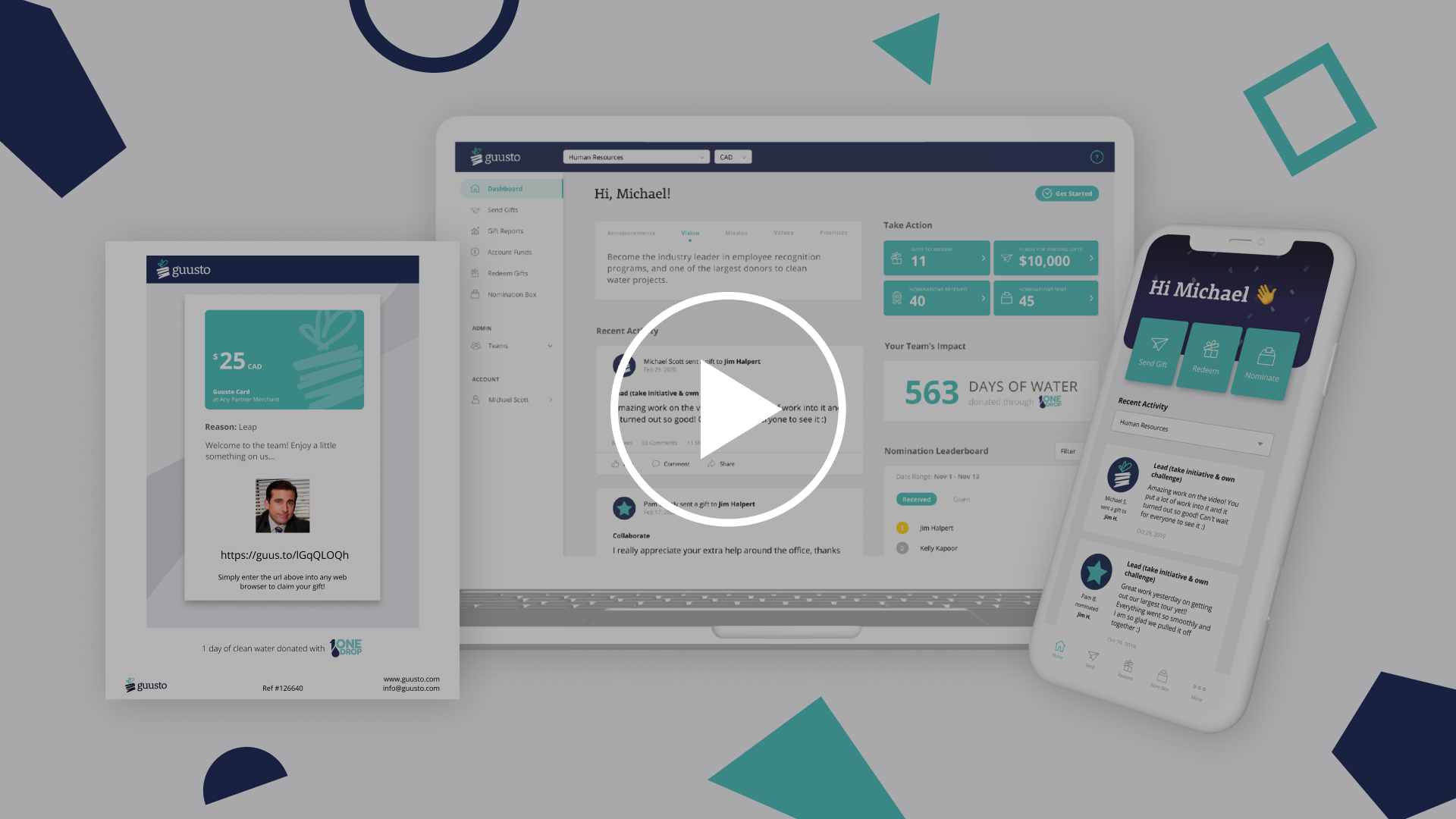 We power a wide variety of recognition programs with Mastercard offered in 160+ countries:
Milestone / Anniversary / Years-of-Service Awards
Real-Time Recognition / Spot Bonuses
Peer-to-Peer Nominations
On-boarding Programs
Wellness Programs
Goals
Quarterly & Annual Performance Awards
Birthdays & Holidays
Any Gift Card Program
Why you'll love Guusto!
Simple & scalable execution
Start with a FREE account to quickly send/schedule up to 1000 rewards/order, and get to "AHA" in minutes, not months! Then run pilot employee recognition programs allocating budgets to different team members before scaling to the entire organization.
Impactful, flexible & inclusive
Give your people the right employee recognition and reward software to consistently reinforce stellar work in real-time! Recipients choose where to redeem from 60,000+ merchant locations, so they actually get something they want. Web, mobile app and print-out options to ensure no-one is ever left out.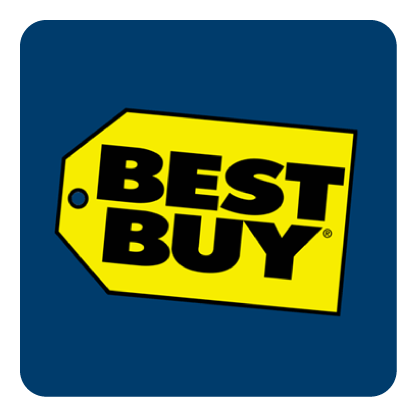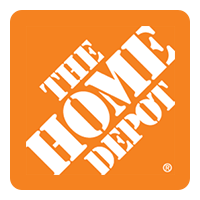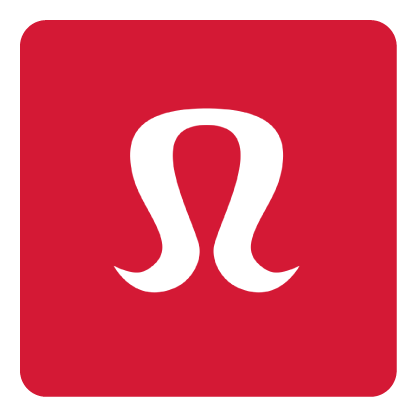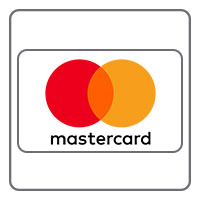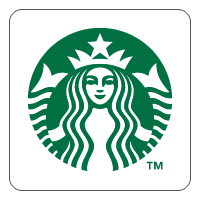 Fair & transparent pricing
FREE single accounts to get started with our employee recognition system! Then only pay for Team Members you'd like to provide budgets. No confusing points systems with markups! No set up fees, shipping fees or minimums, and unclaimed gifts are credited back in full so you get the biggest ROI for every dollar spent on employee recognition!
16X return on investment
Guusto's employee recognition software can give your company an ROI of up to 16X your outlay. Recognition has been shown to drive gains in efficiency, productivity, and retention, as well as reduced absenteeism and onboarding costs.
Aligned & engaging culture
Guusto's employee recognition and rewards software will keep everyone aligned on mission, vision, and top priorities that move the business forward. Engrain core values into the fabric of your company culture. Build community and engage your people with peer-to-peer nominations, social feeds and leaderboards.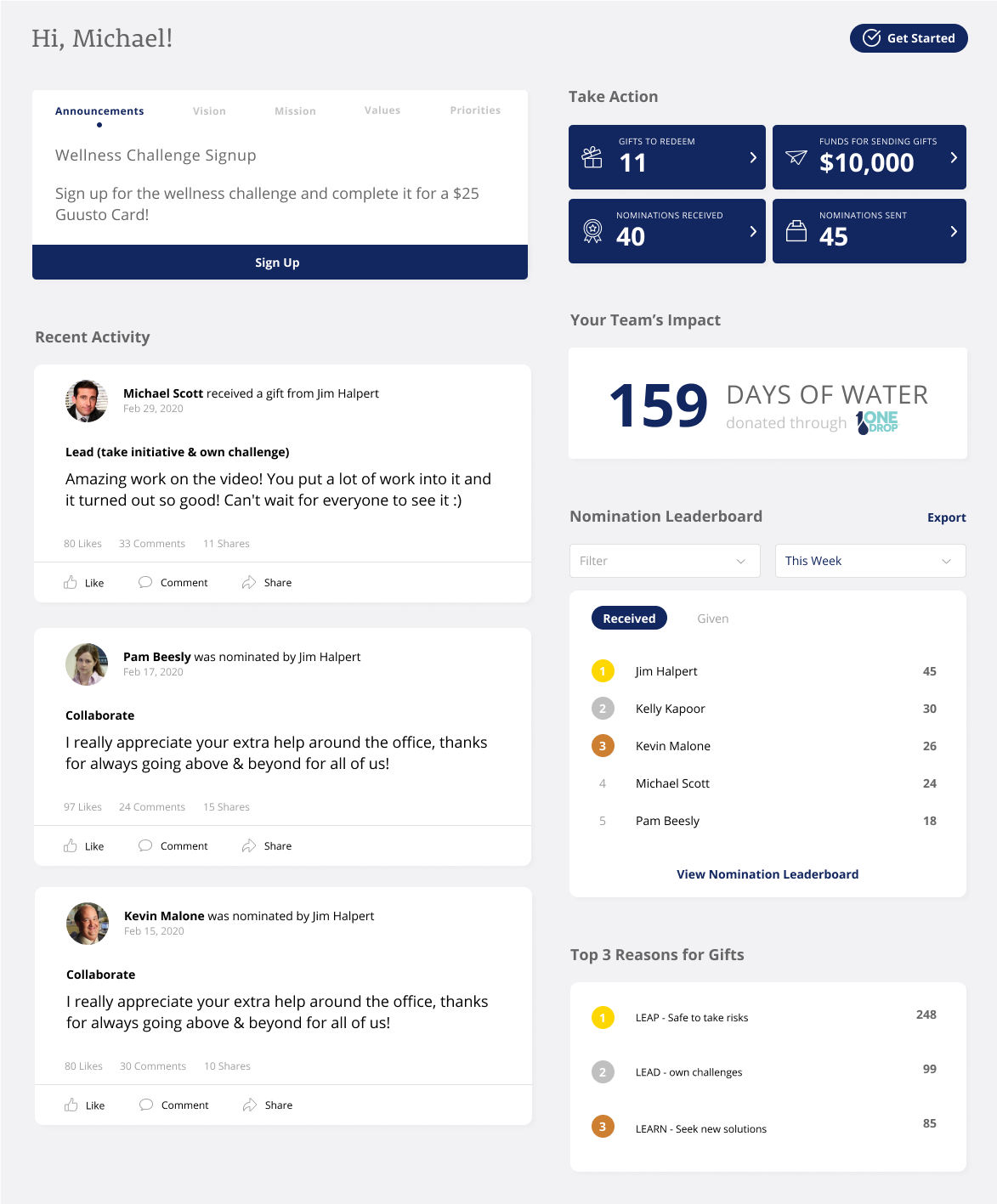 Actionable Reports
Reporting that provides insights to guide your people strategy. Track your team's engagement, every reward sent, taxable benefits, and core value performance in a single employee recognition platform to better understand your culture, the impact of your employee recognition program, and where you can improve.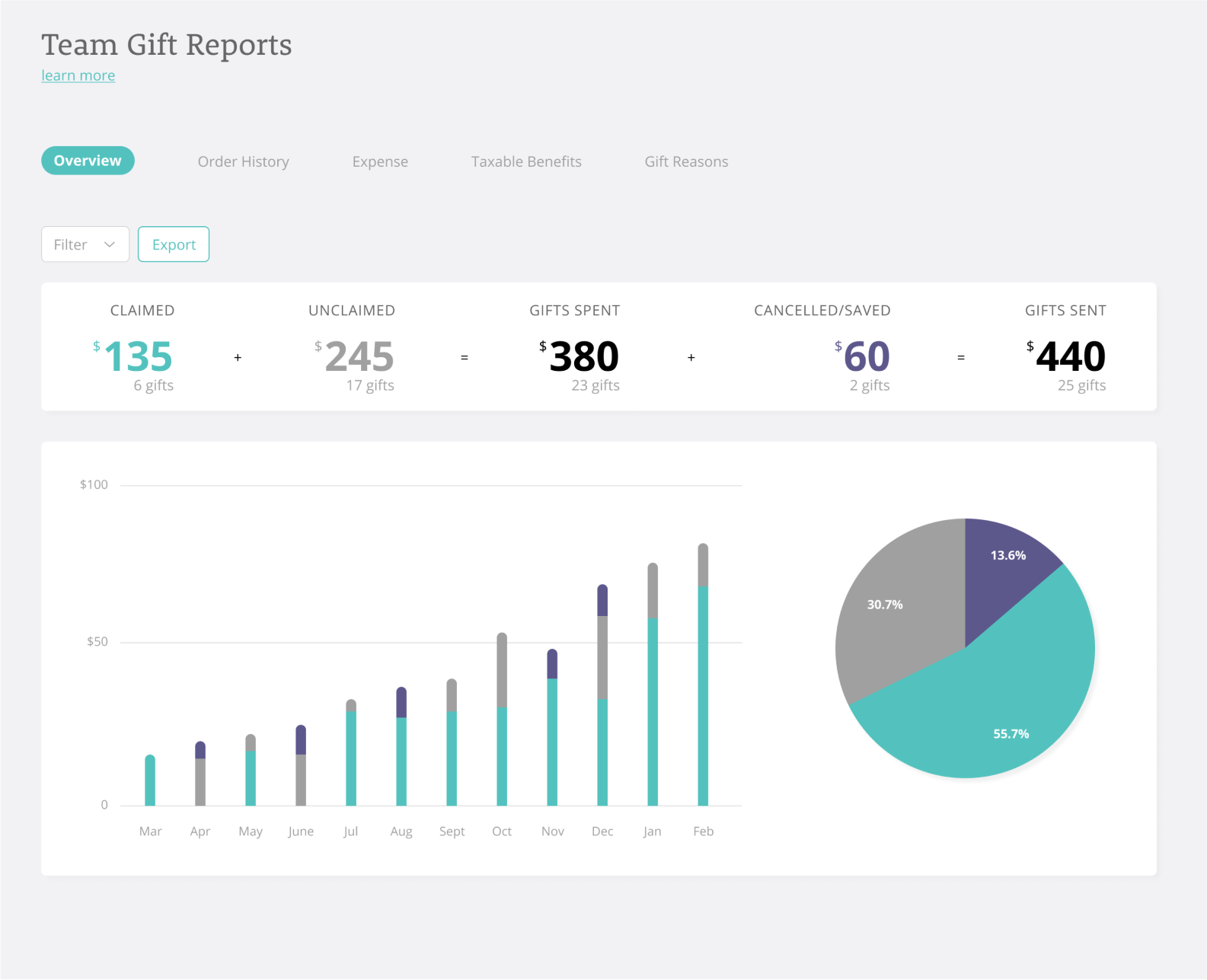 Purpose-Driven
Nearly 800 million people in the world lack access to clean water. We've teamed up with the One Drop Foundation (an initiative by Guy Laliberte, founder of Cirque du Soleil) to donate 1 day of clean drinking water for every Guusto gift sent.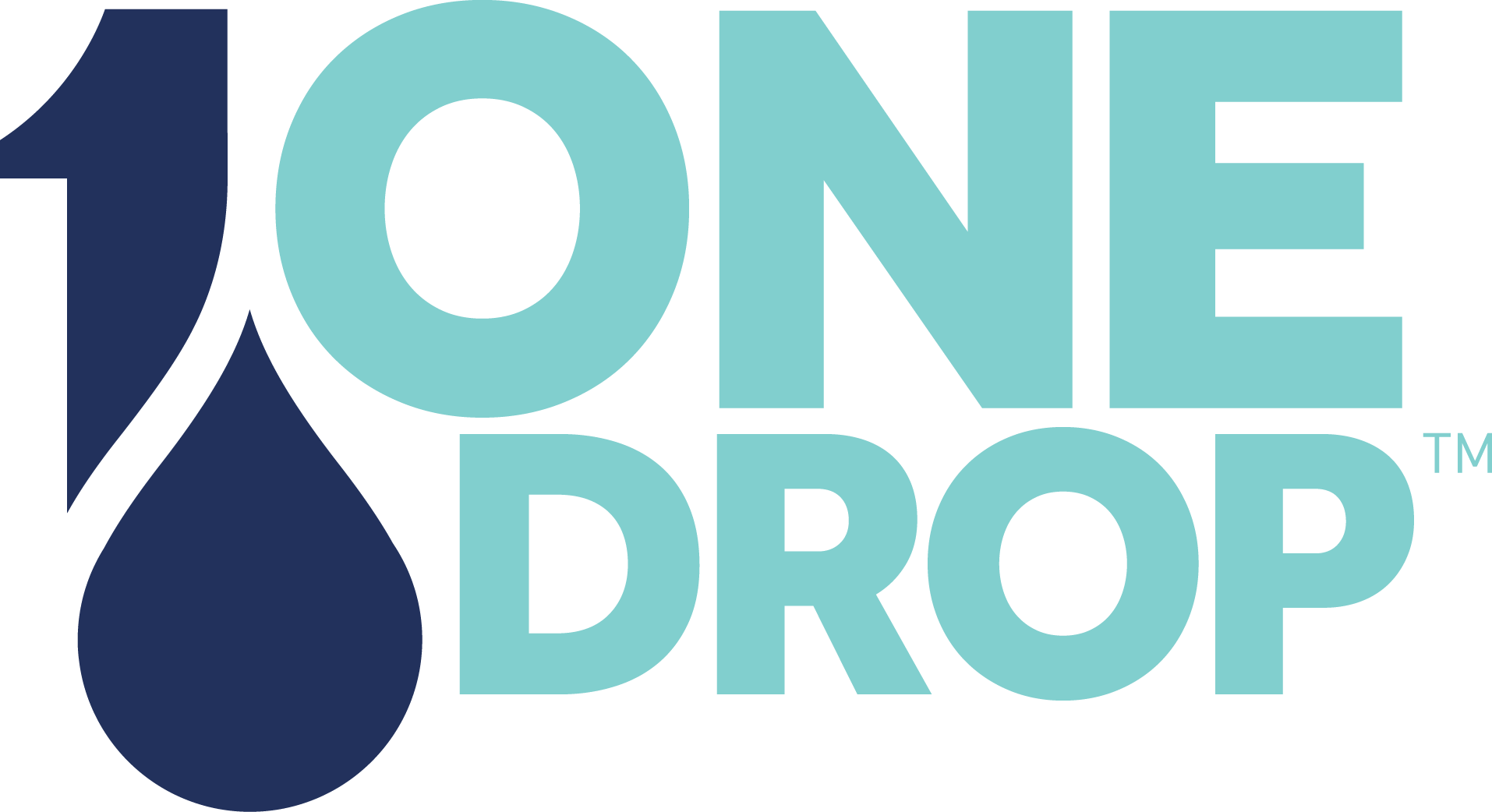 Pricing
Paid annually
~ 2 free months
Paid monthly
How many team members do you have?
You don't need to load or pay for people that just receive gifts.
INDIVIDUAL
Modernize reward programs
Just pay for rewards
Single user accounts
Milestones & anniversaries
Send or schedule 1-1000
rewards per order
Web, mobile app & print-outs
Flexible redemption 60,000+ merchants
Insightful detailed reports
Custom branding
ENTERPRISE
Supercharge Culture
per Member/Mo
$250.00 Total/Mo - Billed Annually
per Member/Mo
$300.00 Total/Mo - Billed Monthly
Everything from TEAMS plus...
Single sign-on (SSO)
HRIS Integrations
API
Automate Rewards
Custom redemption options
What others are saying about Guusto
"
Guusto is an absolutely amazing employee recognition tool! It's so simple to use, and it's great giving our people the choice of where they want to redeem. Also, their customer support team has been outstanding whenever we've had questions.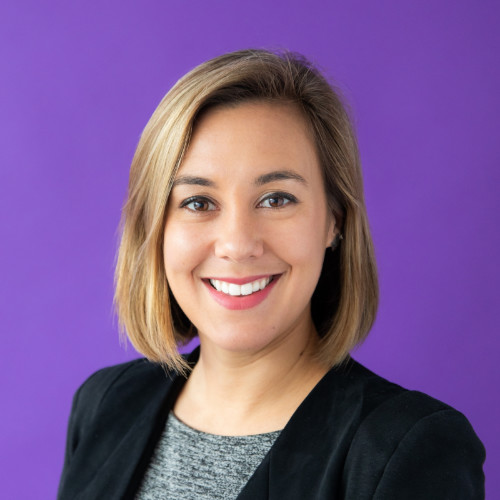 Internal Communications, Employee Engagement
and Leadership Development, Purdy's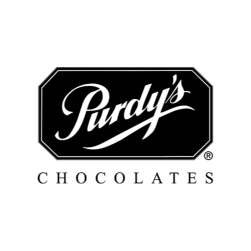 "
Guusto saves your HR department time, so they can focus their efforts elsewhere and do something that will create a perception of you being an HR department that interacts in a more modern and current way.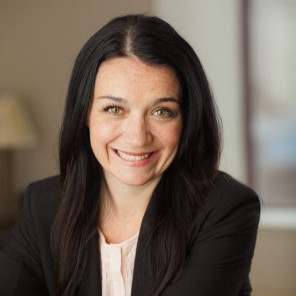 National Director of Human Resources, DLA Piper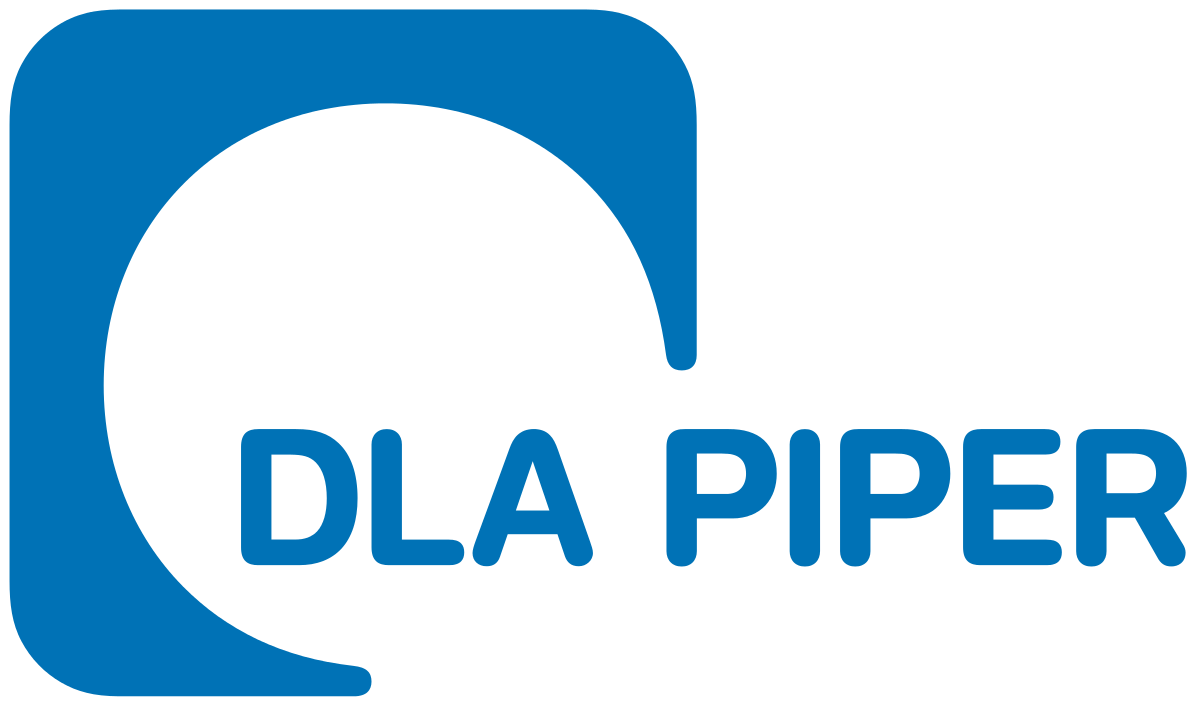 "
Guusto provides us with an efficient platform to send our associates a financial reward so that they are able to purchase merchandise or spend their gift card value on a fun experience... It has also given us another channel for sending our associates recognition for their outstanding personal achievements. We have really enjoyed this new program and it has definitely helped to motivate and drive results.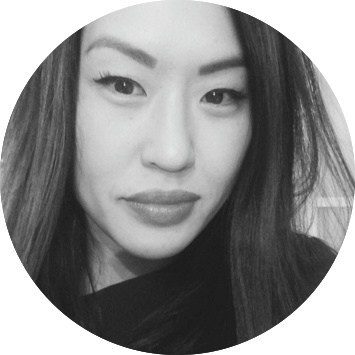 Executive Assistant to VP, Harry Rosen

Previous
Next